Toronto, a bustling city known as the "Economic Heart" of Canada, attracts business travelers globally. Whether attending a meeting, or conference or sealing a crucial deal, choosing the ideal accommodation is pivotal for a successful trip. Toronto offers a variety of hotels catering to the diverse needs of business visitors.
In this article, we'll explore the top 5 hotels in Toronto that provide exceptional amenities, comfort and convenience for those on a business trip.
1.One King West Hotel & Residence
Nestled in the bustling heart of Toronto's Financial District, One King West Hotel and Residence seamlessly marries rich history with contemporary convenience. Occupying an impressive heritage building, the hotel offers sophisticated suites and cutting-edge amenities tailored for business travelers.
Featuring cutting-edge meeting and event areas outfitted with the newest technology, the hotel goes a long way to meet the unique requirements of corporate travelers, ensuring a great blend of business and comfort.
Website: https://www.onekingwest.com
Location: 1 King Street West, Toronto, Ontario M5H 1A1 Canada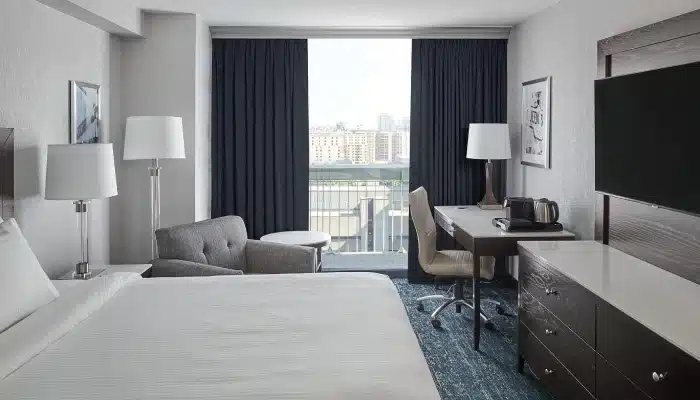 Strategically positioned in downtown Toronto, the Chelsea Hotel stands out as another great choice for business travelers. Offering a diverse range of room options that accommodate various budgets, it distinguishes itself by providing affordability without compromising on comfort.
What sets Chelsea Hotel apart is not only its classy accommodations, but also its state-of-the-art business center and meeting facilities. Situated centrally, the hotel provides effortless access to corporate offices and entertainment options. It is an exceptional destination for those seeking a perfect blend of luxury and convenience in Toronto's vibrant core.
Website: https://www.chelseatoronto.com/
Location: 33 Gerrard Street W, Toronto, Ontario M5G 1Z4 Canada
3.The Ritz-Carlton, Toronto
The name Ritz-Carlton is associated with luxury and elegance. This Toronto branch lives up to the brand's prestigious image..
Located at the city's center, the Ritz-Carlton offers convenient access to both the Financial District and a number of corporate offices. The hotel presents roomy accommodations with breathtaking city vistas, advanced meeting facilities and a devoted business center to enhance your productivity.
Website: https://www.ritzcarlton.com
Location: 181 Wellington St W, Toronto, ON M5V 3G7, Canada
4.The Fairmont Royal York
Steeped in a rich 94-year history, The Fairmont Royal York stands as an iconic hotel seamlessly blending old-world charm with contemporary amenities, making it a haven for business travelers. Strategically positioned near Union Station and the Metro Toronto Convention Centre, it becomes the go-to choice for those seeking both convenience and sophistication.
This distinguished hotel not only offers elegant rooms but also a plethora of dining options and an all-encompassing business center. Renowned for providing a classic and sophisticated experience, The Fairmont Royal York remains a favorite among discerning individuals who appreciate the perfect marriage of history, luxury and modern convenience.
Website: https://www.fairmont.com/royal-york-toronto/
Location: 100 Front St W, Toronto, ON M5J 1E3, Canada
5.Shangri-La Hotel, Toronto
Shangri-La Hotel is renowned for luxury, and its Toronto establishment lives up to expectations. Positioned in the city's entertainment district, it offers a peaceful retreat for business travelers.
The spacious rooms, exceptional service and access to a 24/7 business center ensures a relaxing yet productive stay. What makes Shangri-La unique is its dedication to offering meeting rooms and event spaces equipped with advanced audiovisual technology, positioning it as an optimal choice for conferences and business gatherings.
Website: https://www.shangri-la.com/toronto/shangrila/
Location: 188 University Ave, Toronto, ON M5H 0A3, Canada
Selecting the perfect hotel can enhance your business journey, enabling you to concentrate on your tasks and maximize your experience in this vibrant city. Whether you prefer a lavish accommodation or a more relaxed choice, the mentioned top 5 hotels in Toronto offer an ideal blend of convenience and comfort.
Looking to take your business trips to the next level? Consider partnering with a reliable Corporate Travel Agency, such as Inspired Travel Group. Our commitment and know-how guarantees successful and memorable business trips. Feel free to contact us for all your corporate travel requirements.