Business travel often means a packed schedule of meetings, conferences and deadlines. However, Toronto presents an opportunity for business travelers to experience more than just work commitments. Alongside its dynamic financial hub and thriving industries, Toronto is a uniquely diverse city that offers a wide range of attractions to explore.
Whether you have a few hours between meetings or an extra day to spare, Toronto has something for everyone. From cultural hotspots to natural wonders, this article will guide you through some of the top places to visit when traveling to Toronto for business.
Reaching a height of 553 meters, the CN Tower is an iconic symbol of Toronto's skyline. Visiting this impressive architectural wonder is a must during your time in the city. You can use the glass elevator to reach the observation deck, where you'll enjoy breathtaking 360-degree views of Toronto and the vastness of Lake Ontario.
For those seeking an extra bit of adventure, the EdgeWalk is an amazing option. It offers the opportunity to walk along the edge of the tower supported by a harness, providing a truly unique perspective of Toronto's skyline. This experience is sure to leave you with lasting memories of your trip to this lively city.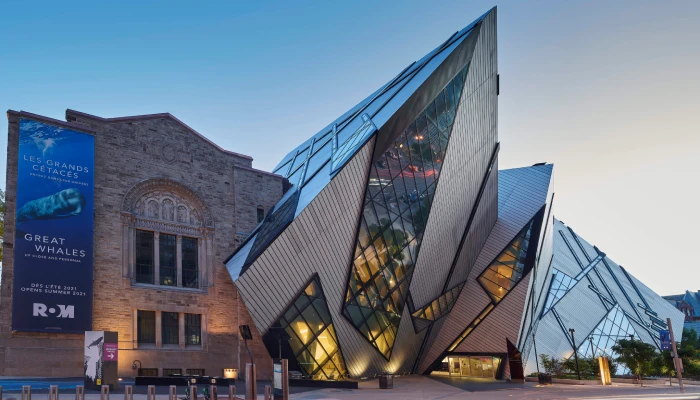 The Royal Ontario Museum or ROM, is a rich source of art, culture and natural history. It features a broad collection of fantastic exhibits, ranging from ancient civilizations to modern art. The remarkable architecture of the building is an attraction in its own right.
Inside, you have the opportunity to discover a variety of regularly changing exhibitions that will provide a great source of entertainment and intrigue. As one of North America's most renowned cultural institutions, this is must-not-miss.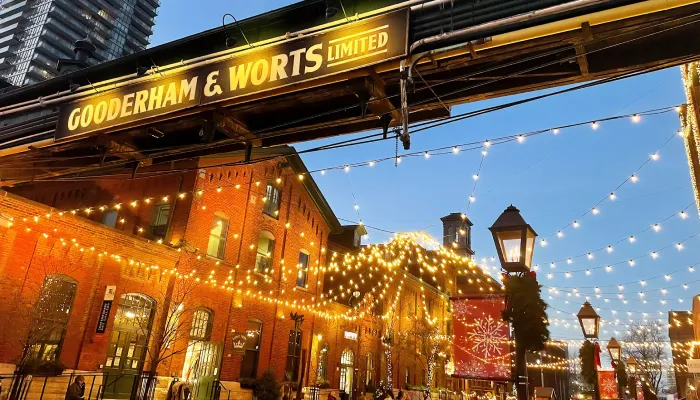 Toronto's Distillery District is a  pedestrian-only village set in a quaint 19th century backdrop. This once-industrial zone has evolved into a thriving hub of artistic expression, cultural richness and entertainment. With its cobblestone streets, historic Victorian-style buildings and a bustling ambiance, it's an ideal spot for a leisurely stroll. Here you can discover stalls selling handcrafted wares and relish the offerings of the numerous eateries, bars and coffee shops within the district.
If you're in search of a peaceful escape from the urban hustle and bustle, the Harbourfront Centre is your answer. It is located along the shores of Lake Ontario, offering a serene setting for leisurely strolls, bike rides or simply unwinding by the water. You can also explore the many cultural events, art exhibitions and concerts that take place at this picturesque lakeside destination.
Escape concrete jungle by taking a short ferry ride to the Toronto Islands. Comprising a chain of small islands, this natural oasis offers green spaces, beaches and outdoor activities. Rent a bike or kayak, have a picnic or relax on the sandy shores of Hanlan's Point Beach. 
The Islands provide a refreshing contrast to the corporate environment, making it the ideal spot for relaxation and rejuvenation.
For food enthusiasts, St. Lawrence Market is a haven. This historic market is a culinary mecca, filled with local and international delicacies. You can sample a variety of foods, from freshly baked goods to gourmet cheeses and international dishes. It's the perfect place to indulge your taste buds and experience Toronto's incredibly diverse food scene.
In the midst of a busy business trip to Toronto, taking a moment to explore the city's diverse offerings can be both enriching and refreshing. Toronto's iconic landmarks, cultural treasures and serene escapes provide a well-rounded experience beyond the boardroom. From the heights of the CN Tower to the culinary delights of St. Lawrence Market, there's something for every traveler to savor in this dynamic Canadian city.

Would you like to enhance your business travel experiences? If so, consider working with Canada's Corporate Travel Experts: Inspired Travel Group. We provide a truly dedicated corporate travel service, guaranteeing successful and memorable business trips. Feel free to reach out to us for all your corporate travel needs.